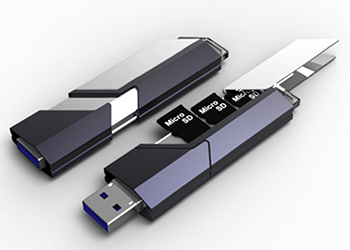 As many as 20,000 USB sticks may be left in dirty clothes and handed in to dry cleaners every year, with nearly half never returned, according to new research from security vendor Eset.
The firm surveyed 500 launderettes and dry cleaners around the country and extrapolated its findings based on the 5,839 such businesses nationwide. It found that on average each dry cleaner will find four USBs in dirty laundry—which works out at over 20,000 for the country.
Even worse, some 973 mobile phones are also absentmindedly left behind in pockets and handed in, the study found. What's more, 45% never get returned to their rightful owner, Eset said. The study highlights the need for organizations to enforce strict policies around data portability—something privacy watchdog the Information Commissioner's Office (ICO) has been advocating for years. Removable media in particular makes it easy for staff to transfer but also lose sensitive corporate data.
A combination of people, process and technology is often touted as the best way to guard against such shortcomings. That is, better training for staff, strict policies on data transfers and technology to prohibit the downloading of unencrypted sensitive data to removable media. "USB drives are a small convenient means to transfer data from one environment to another; with the right safety measures in place and some good policies, they should be as safe as any data transfer method.
"USB encryption is low cost and if used correctly will protect any private data from prying eyes, plus correctly configured internet security products that scan on insertion of any media will give you a fairly comprehensive protected environment."USBs and mobile phones aren't the only thing launderette owners have found in dirty laundry over the past year.000 USBs May Have Been Left